Microbiology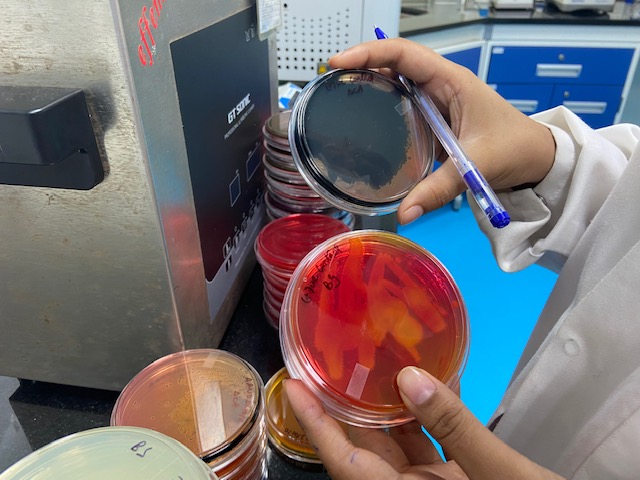 Microbiology laboratory at Drug Discovery & Development Division is Biosafety Class-II category lab.
The lab is well-equipped with Air shower, Biology Safety Cabinets (Type II, Class B2), bacteriological and BOD incubators and shakers, wall mounted and vertical automated autoclave, Flexi pumps, analytical weighing machine, pH meter, high speed centrifuges, water purification system, electric loop sterilizer equipments. Apart from these, the lab is also well resourced with some advanced tools such as colony counter Scan 1200, Microscope, PCR, UV-VIS Spectrophotometer, Anaerobic chamber and etc.
Our highly skilled, qualified and experienced team of Scientists at Microbiology lab provides quality control support to the R&D team in line by taking care of the microbial limit testing of all products like Ayurvedic medicines, nutraceuticals and cosmeceutical formulation, plant extracts or any newer formulations.
On the R&D front, the microbiology team is active in screening herbal formulations, extracts and Ayurvedic medicines for their anti-microbial properties. Futhermore, the microbiology team is also involved in research activities designed to provide understanding of the modes of anti-microbial actions in various herbal extracts, formulations and Ayurvedic medicines.
Microbial profiling of test article includes testing of
Microbial contaminants viz: Total Aerobic Bacteria Count (TABC), Total Yeast & Mould Count (TYMC),
Test the presence of any specific pathogens viz: E.coli, Salmonella spp. S. aureus, and Pseudomonas aeruginosa.
In addition to microbial profiling at microbiology lab; characterization of bacterial isolates or specific pathogens by using morphological and biochemical tests. Additionally, molecular biology techniques are employed to understand the effect of various herbal extracts, formulations and Ayurvedic medicines at gene and protein levels.
The microbiology team are also involved in multifarious activities pertaining to research and innovation in the field of Ayurvedic/Herbal Medicines; Nutraceuticals by using modern science and tools, without adulterate the principles of Ayurveda. These activities majorly include the in-vitro antimicrobial activity of Ayurvedic medicines/formulations and/or plant extracts against broad- spectrum of bacteria and fungi strains that are responsible for serious illnesses and disorders such as Skin infections, lung infections, gastric infections, wound infections and Urinary tract infection.
Antimicrobial potency of the test article determined by measuring
Anti-microbial sensitivity, % inhibition,
Minimum Inhibitory Concentration (MIC)
Minimum Bactericidal Concentrations (MBC)
Minimum Fungicidal Concentrations (MFC)