In-Vivo Biology
The In-Vivo Biology department houses a state of the art laboratory animal facility based on clean and dirty corridor concept. Further, the facility is equipped with an airflow system that ensures the supply of clean, HEPA filtered air at specific temperatures and humidity to the animals housed within a room and exhausts all the contaminated air. This is facilitated by the existence of a positive differential pressure maintained between the clean corridor and the animal rooms.
The laboratory animal facility comprises of quarantine, holding, experimental, formulation, necropsy, animal food and bedding material storage rooms and a dedicated washing area with steam sterilizers. The facility is registered for experiments on animals (Registration number: 1964/PO/Rc/S/17/CPCSEA) under the Committee for the Purpose of Control and Supervision of Experiments on Animals (CPCSEA), Ministry of Fisheries, Animal Husbandry & Dairying, Government of India, New Delhi.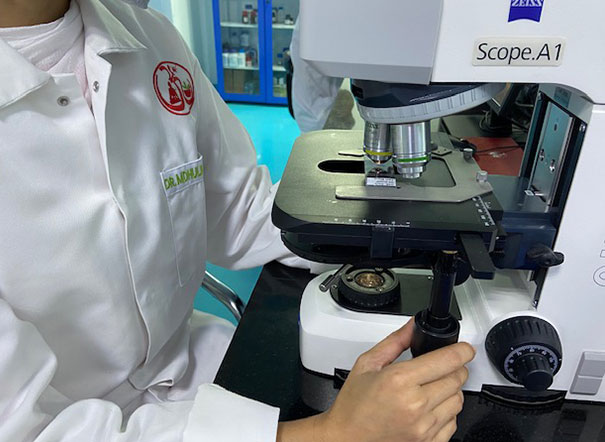 Animal experimentation is conducted under the guidance of the Institutional Animal Ethics Committee (IAEC) of Patanjali Research Foundation with a license to work on small experimental animals such as mice, rats, rabbits, hamsters and guinea pigs.
The laboratory animal facility is equipped with individually ventilated cages (IVCs) and cage change stations for handling specific pathogen free as well as immunocompromised animals. Further, it possesses well-equipped pharmacology, histopathology and clinical chemistry laboratories. A full time veterinarian along with dedicated scientists and trained animal house technicians are available to provide care to the animals. The facility is under electronic surveillance (CCTV system) and controlled access system for authorized persons, in order to minimize the risk of infection to the animals. Furthermore, the entry to the clean corridor is equipped with an air shower to minimise particulate contamination.
Our highly qualified, experienced scientific team is currently focused in the therapeutic areas of metabolism, inflammation, respiration, nephrology, pain, autoimmunity, hepato-gastroenterology, thyroid, central nervous system, cardiovascular system, wound healing, bone metabolism and thrombocytopenia. So far, we have successfully tested more than 100 Ayurvedic test articles for these therapeutic areas. The following animal models have been standardized in-house and have been employed for screening of classical as well as novel Ayurvedic formulations:
Streptozotocin-induced type I diabetes in rats
Alloxan-induced type I diabetes in rabbits
Streptozotocin and high fat died-induced type II diabetes in rats
Triton-X induced hyperlipidemia in rats
Collagen antibody-induced arthritis in rats
Complete Freund's adjuvant-induced arthritis in rats
Monosodium iodoacetate-induced osteoarthritis in rats
Dextran sodium sulfate-induced colitis in mice
TPA-induced psoriasis-like lesions in mice
Imiquimod induced psoriasis in mice
Carrageenan induced paw edema in rats
Paclitaxel-induced neuropathic pain in mice
Chronic construction injury-induced neuropathic pain in rats
Formalin induced writhing in mice
Ovalbumin-induced allergic airway inflammation in mice
House dust mite-induced airway hyperresponsiveness, airway inflammation and airway remodeling in mice
House dust mite and Complete Freund's adjuvant-induced mixed granulocytic airway inflammation in mice
Cigarette smoke extract-induced pulmonary inflammation in mice
Lipopolysaccharide-induced acute lung injury in rats
Ethylene glycol-induced nephrolithiasis in rats
Pylorus ligation-induced gastric ulceration in rats
Carbon tetrachloride induced hepatotoxicity in rats
Thioacetamide-induced hepatotoxicity in rats
Methionine and choline deficient diet-induced non-alcoholic steatohepatitis in mice
Aminotriazole-induced hypothyroidism in rats
Deoxycorticosterone-induced hypertension in rats
Scopolamine-induced memory impairment in mice
Chronic unpredictable mild stress-induced depression in rats
MPTP-induced Parkinson's disease in mice
Cyclophosphamide induced thrombocytopenia in mice
Phenylhydrazine induced hemolytic anemia in rats
Ovariectomy-induced osteoporosis in rats
Acute and Subacute toxicity studies in rats in accordance with OECD guidelines
The department is equipped with the following instruments:
In-Vivo Imaging System (IVIS Spectrum)
flexiVent
Electronic von Frey aesthesiometer
Pressure application measurement apparatus
Hot and Cold plate
Tail flick apparatus
Randall Sellito apparatus
Rota Rod
Non-invasive blood pressure apparatus
Stereotaxic apparatus
Elevated plus maze
Actimeter
Morris water maze
Hematology analyser
Clinical chemistry analysers
Urinalyser
Coagulation analyser
Automated slide stainer
Tissue processor
Embedding station
Microtome
Deep freezers (-40ï'°C and -80ï'°C)
Our Research List
Our Research List